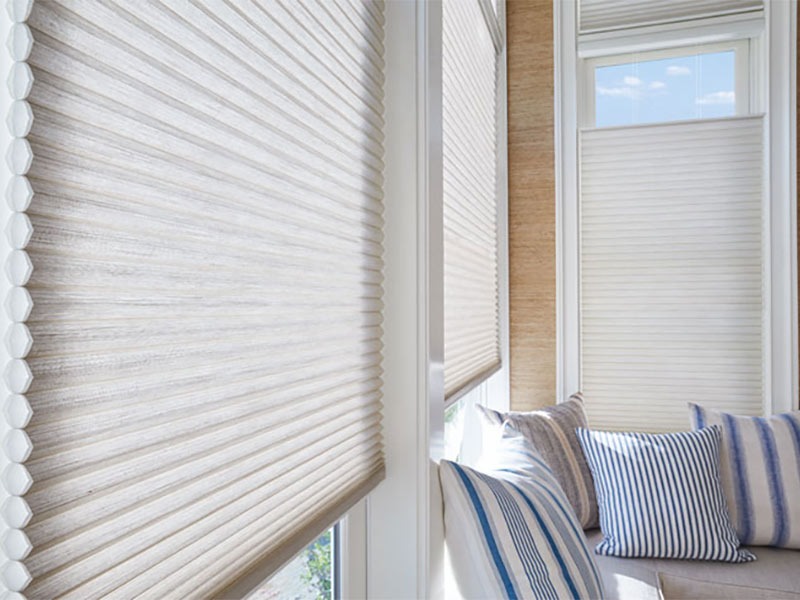 Honeycomb Shades
The magic of cellular honeycomb shades is in their specially engineered honeycomb shape, a unique construction that traps air and creates a layer of insulation between the window and a room's inside temperature. These shades offer superior energy efficiency, helping to keep your home warmer in the winter and cooler in the summer.

Our expert design consultants can assist you with your selection, helping you determine the function you need, and the style, design and color that pleases your eye.
Contact Us To Get Started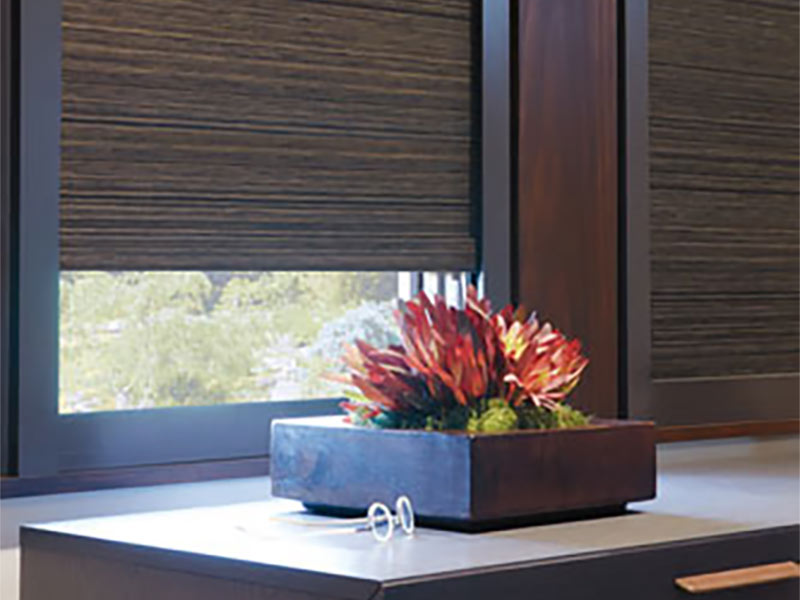 Roller Shades
Whether your aesthetic is minimalistic or statement-making, our Designer Roller Shades are a timeless accent. Each shade is precision-engineered for silent, smooth operation and a minimal light gap, providing extra privacy for your space.
Contact Us To Get Started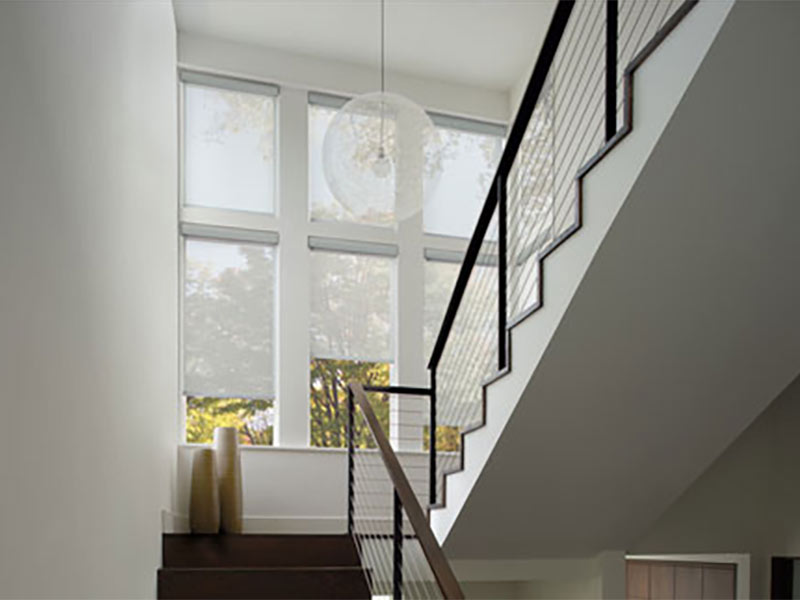 Solar Shades
Designer Screen Shades are specially crafted to curb aggressive UV rays, protecting your furniture and valuables. They also minimize light gaps for the utmost privacy. Designer Screen Shades are available in varying levels of opacity—giving you control over how much light comes through. They work beautifully in all spaces but are particularly effective on patios or in sunrooms.
Contact Us To Get Started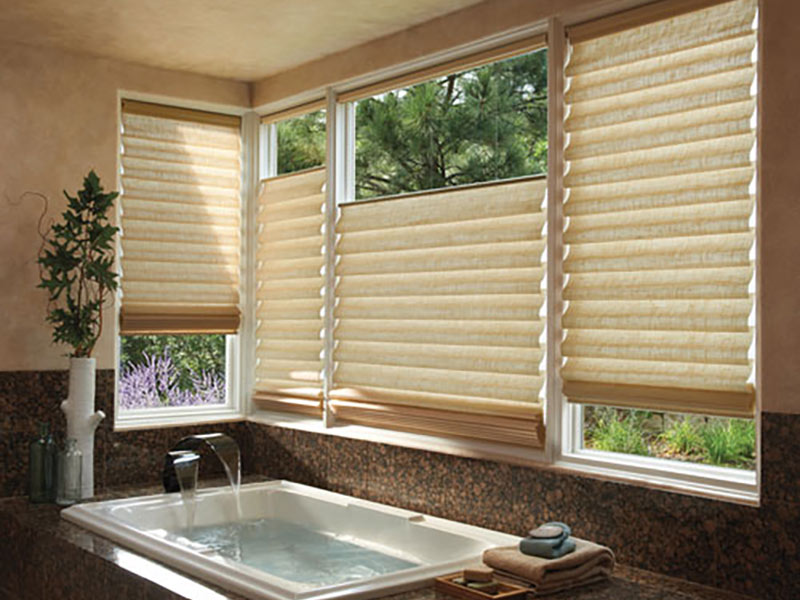 Roman Shades
Our Roman shades combine the soft look of fabric folds with the operating ease and convenience of a traditional shade, stacking smoothly and evenly when raised. Roman shades can bring an elegant, traditional look to your home, or they can be contemporary and relaxed. Offered in many sumptuous fabrics, colors, folds and opacities to suit your style.
Contact Us To Get Started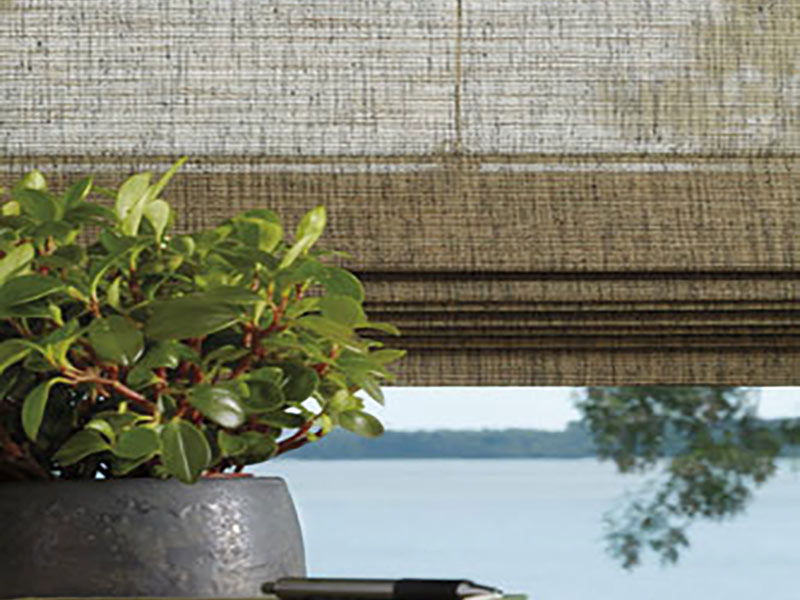 Alustra Woven Texture Shades
The Alustra® Collection of Woven Textures® by Hunter Douglas is inspired by design. Fabrics—from French linen to lustrous charmeuse—are globally-sourced to create a truly elevated, premium window treatment. Alustra Woven Textures are available in Roller Shades, Roman Shades and Skyline® Gliding Window Panels.
Contact Us To Get Started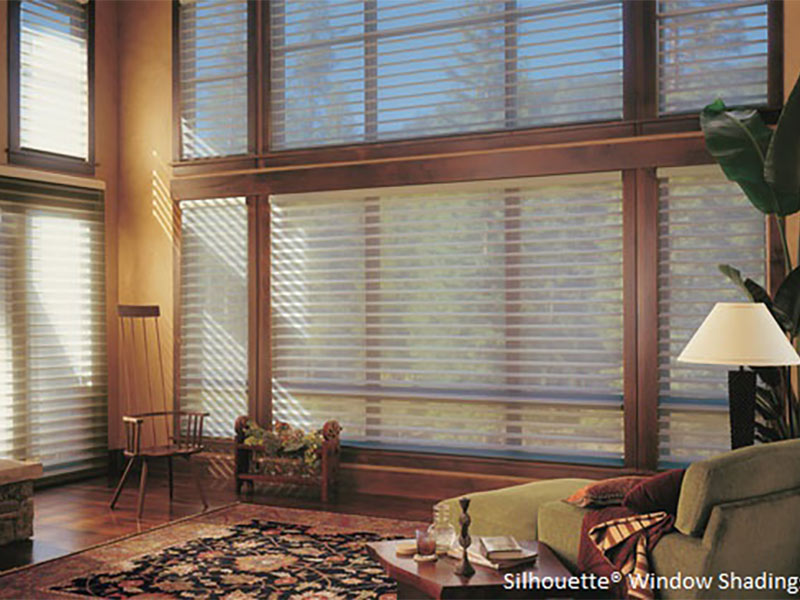 Sheers and Shading
Our sheers and shadings collection is made from a variety of soft fabrics, including opaque, translucent, semi-sheer, and room darkening materials.

Silhouette®
Fill your room with soft light while maintaining a sense of privacy with Silhouette® Window Shadings. Suspended between two sheers are unique S-shaped vanes that you can tilt to varying angles, allowing light to filter through while preventing the outside world from looking in.

Luminette® Modern Draperies
Incorporating the soft romance of sheers with the drama of drapes, Luminette® Privacy Sheers softly diffuse the sunlight. These sheers also have rotating fabric vanes, which give you 180 degrees of light control.

Pirouette®
Combine beautiful views and privacy with Pirouette® Window Shadings. These innovative window treatments, which feature beautiful fabric options, have soft, adjustable fabric vanes attached to a single sheer backing—design ingenuity and refinement, in one window shading.

Nantucket™
Tasteful and timeless, our Nantucket™ Window Shadings have light-transforming properties. Their 3" fabric vanes are suspended between two sheer fabric facings, creating a warm, diffused-light effect.
Contact Us To Get Started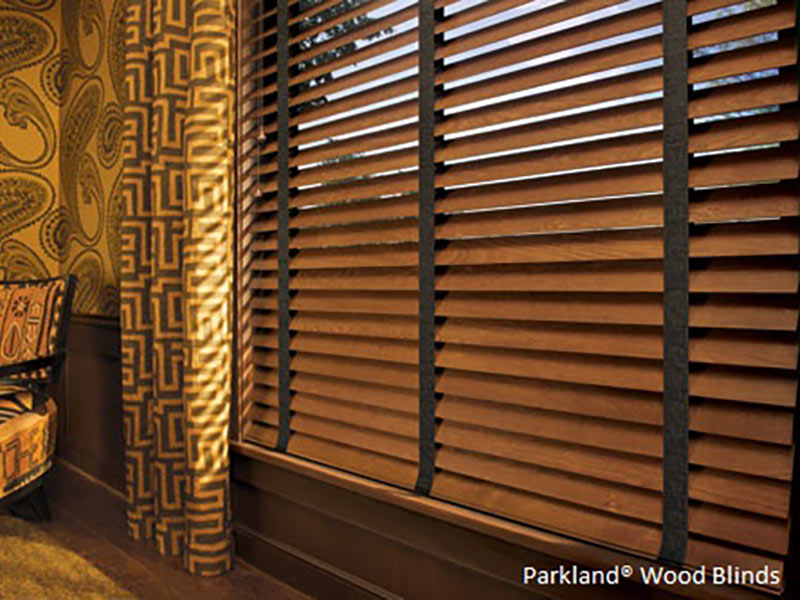 Wood Blinds
Parkland™
For a rich, traditional look, opt for our Parkland® Wood Blinds. The genuine hardwood slats are crafted using 100% domestic wood and complement the lines of any room—like only wood can.

Everwood™
Achieve a wooden appearance with the reassurance that the material won't age over time. Our EverWood® Alternative Wood Blinds are made with a long-lasting wood alternative, available in both TruGrain® finishes and a large selection of solid colors
Contact Us To Get Started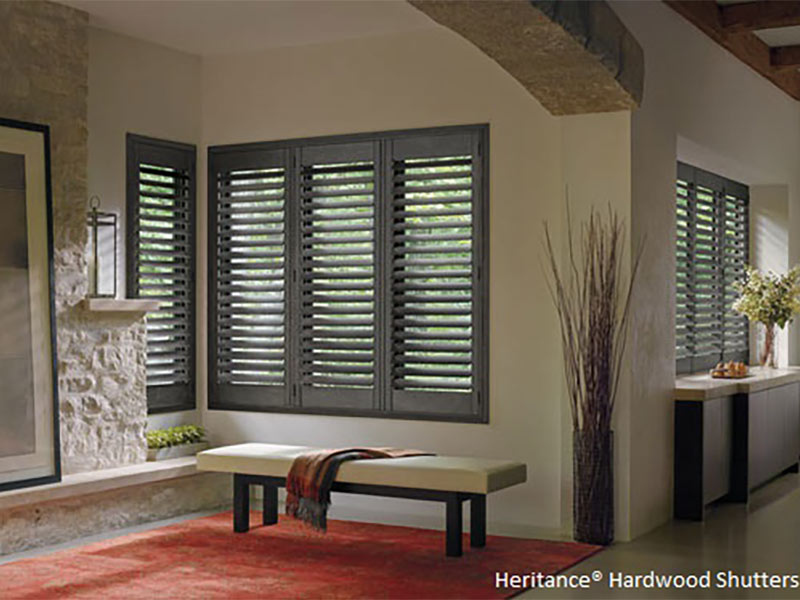 Shutters
Heritance®
Capture the essence of Southern style and invest in a timeless classic with our Heritance® Hardwood Shutters. These shutters are crafted from high-quality, genuine hardwood and are available in unlimited color choices and unique finishes.

NewStyle®
The rich look of wood meets strength and durability with our NewStyle® Hybrid Shutters, which are perfect for high-energy family households where enthusiastic play and nonstop busyness are part of the daily scene.

Palm Beach™
Create a beachy ambiance with Palm Beach™ Polysatin™ Shutters, made with our innovative Polysatin™ material that is UV-resistant and prevents warping, cracking, fading, chipping and peeling. These are the ideal shutters for hot and humid climates.
Contact Us To Get Started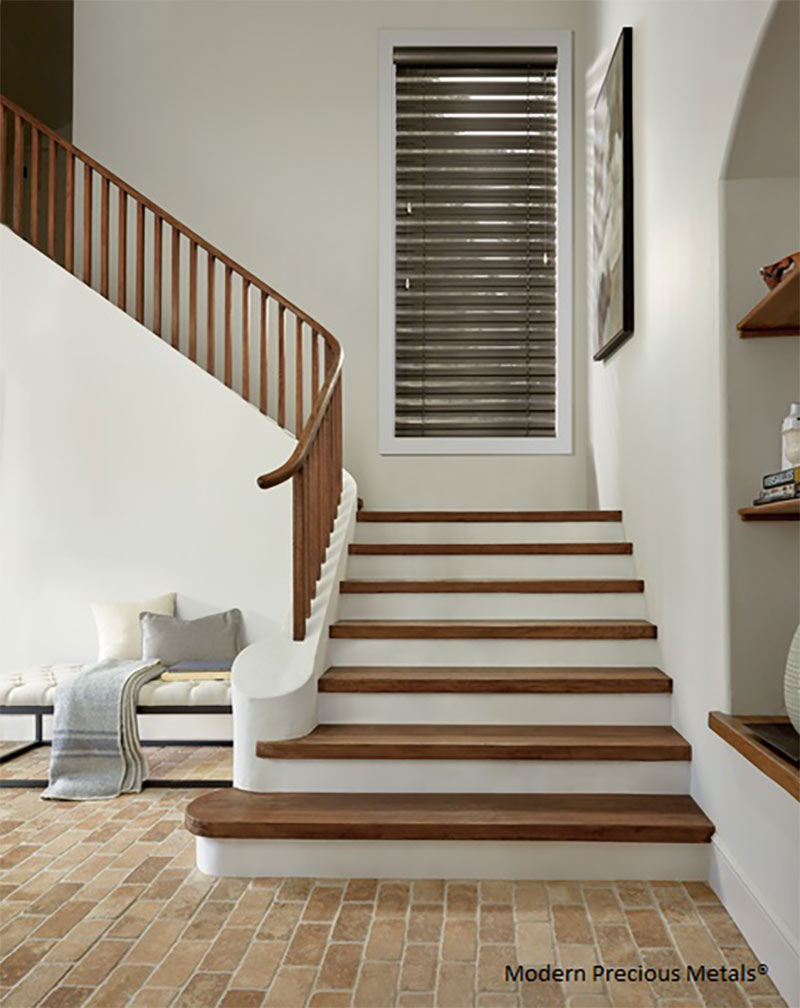 Aluminum Blinds
Reveal®
When the view is your focal point, opt for Reveal® with MagnaView® aluminum blinds. Designed to allow slats to nest together, they provide twice the view-through as standard 2″-slat blinds.

Macro
A dramatic look for large windows, our 2″ Macro blinds offer a wide view-through. A standard de-Light™ feature hides cord holes and blocks light for better light control.

Natural Elements™
Our Natural Elements™ blinds are a unique combination of aluminum slats and real wood valances, bottom rails, tassels and tilt wands. MagnaView® is optional. de-Light™ is standard.

Lightlines®
Our ½" and 1″ Lightlines® aluminum blinds come in the widest range of colors and finishes, and offer maximum light control and privacy. de-Light™ is standard.

Décor®
½" and 1″ Décor® blinds are our most traditional aluminum blinds and feature standard cord holes and a contoured designer headrail for a sleek, fashionable look.

Celebrity®
Our 1″ Celebrity® blinds are an economical assortment of aluminum blinds offered in a wide selection of colors. A beveled headrail is standard for that clean, traditional look.
Contact Us To Get Started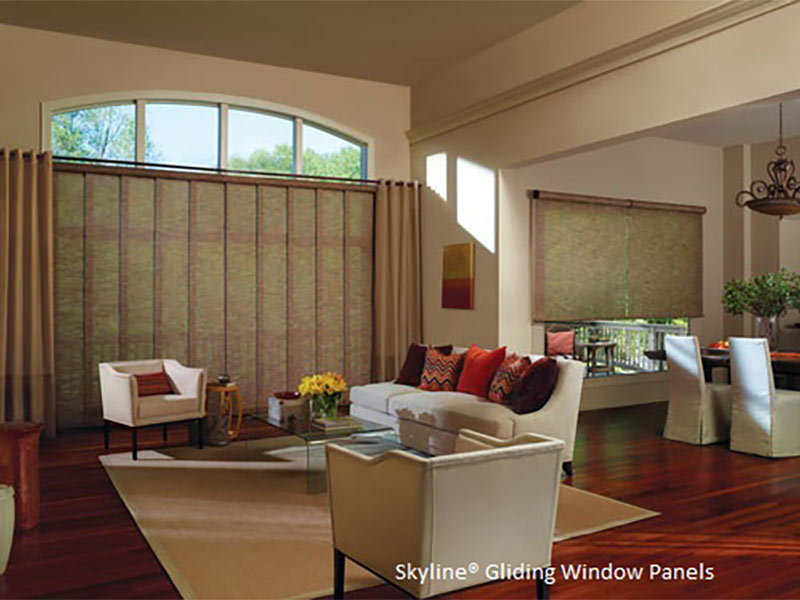 Vertical Blinds
Skyline Gliding Panels®
For homes with expansive windows showcasing spectacular views, our Skyline® Gliding Window Panels have impressive reach and serve as a dramatic backdrop for your interior. They can also double as a room divider.

Somner®
Our Somner® Custom Vertical Blinds offer the largest selection of colors, treatments, and textures, from wood grains and smooth metal finishes to geometric patterns. Materials include vinyl, aluminum, and fabric.

Cadence®
Enjoy the sumptuous appearance of soft drapery plus added operational control with Cadence® Soft Vertical Blinds. With a patented headrail design, these blinds move smoothly and silently along your windows.

Vertical Solutions®
For those who prefer minimalistic design, our Vertical Solutions® Vertical Blinds are available in fabric and vinyl options that let your art and furniture take center stage.
Contact Us To Get Started